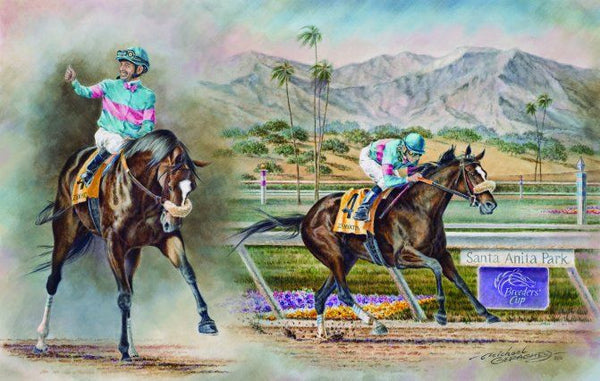 Zenyatta
Zenyatta, the 2010 Horse of the Year, won 19 consecutive races and over $7 million in purses. In 2009 she became the first filly in history to win the Breeders' Cup Classic.
The bottom margin of each print has a caption which reads, as follows:
Zenyatta
She came, She pawed, She conquered
       Perhaps it's only fitting that a horse owned by the man who co-founded A & M Records and discovered rock & roll legend Sting would have a distinctive stage presence and flair for the dramatic  ~  From the dawn of her racing career, Zenyatta signaled a hunger for competition with an arch of the neck and an almost mystical paw of the ground - emblematic of a bull engaging a matador.  Veteran observers had never seen such captivating moves before a race... or during it.  
      On November 7, 2009 Zenyatta launched another breathtaking rally past the entire field to become the first filly to win the Breeders' Cup Classic, thus stamping herself as the best horse on earth.  And on June 13, 2010, at age 6, Zenyatta  would continue her undefeated career while setting the world record for consecutive victories in unrestricted races at 17 - surpassing the marks by legends Citation and Cigar.  By foot and by feat, Zenyatta has left a unique and emotional mark on Thoroughbred racing. 
ARTIST'S NOTE:  I had never seen a racehorse aggressively paw at the ground in the way in which Zenyatta did before a race.  It reminded of a prize fighter warming up by viciously shadow boxing before a bout.  It was like Zenyatta was igniting herself for battle. The pawing was one of the most captivating expressions I'd ever seen; and when she unsuspectingly stopped to put on the act in front of the massive grandstand at Churchill Downs just minutes before the nighttime 2010 Breeders' Cup World Championship, it was so impressively cool, my eyes involuntarily welled up just as they did when  my two sons were sworn into the United States military.
      All told, for this composition, I felt the full story of Zenyatta could not be told for future generations without showing her pawing at the ground.  It had to be a two-image scene: the pawing as well as a racing scene of her victory in the Breeders' Cup Classic.
Zenyatta
An Artist Signed & Numbered
Limited Edition of 500 Prints
Overall Print Size: 20" x 26"
Zenyatta Prints are Sold UnFramed Only
FREE SHIPPING
Inventory is Low
Questions?  call or text Mike Geraghty at 
301. 602. 4385
or Email:  mgArts31@gmail. com