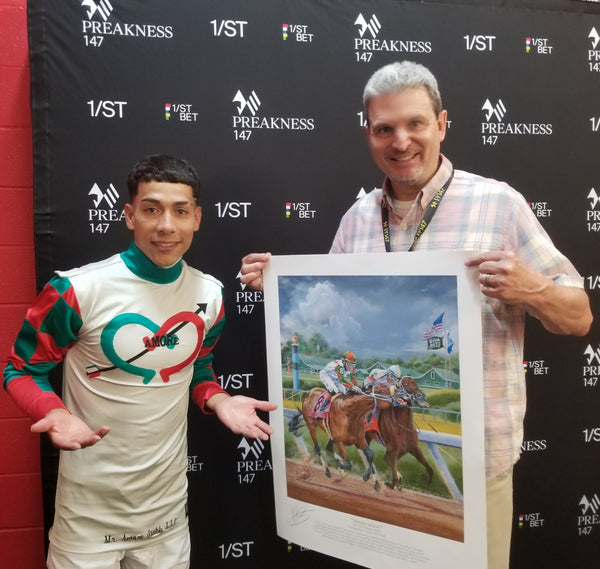 "Surprise Attack!" Firenze Fire savages Yaupon in the 2021 Grade 1 Forego Stakes
An Artist Signed & Numbered Limited Edition of 500 Fine Art Prints

Image Size 17.5" x 21"
Overall Print Size 21" x 26.5"
Due to volume and framing supply issues, All prints are currently Sold Unframed.
However, this print frames beautifully, inexpensively & quickly in a walnut wood-colored moulding - which can be found at any local mom & pop picture framer, or Hobby Lobby or Michaels Art & Craft store.
No matting required for attractiveness.

THE CAPTION BENEATH THE ARTWORK READS
In an act of crazed competitiveness during a duel between world-class sprinters, Firenze Fire stunned onlookers and suddenly launched at his foe, Yaupon -- and savaged him, relentlessly, for 150 feet of deep stretch.
As Firenze Fire connected on several bite-attempts, jockey Jose' Ortiz desperately fished to regain the right rein torn from his grasp.
Amazingly, the 2 colts maintained top speed throughout, and at the wire of a race which will go down in historical lore, the undaunted Yaupon - and startled jockey Ricardo Santana - prevailed by a head
By witness of the photo, jockey Jose' Ortiz says, "Hey, don't blame me!"