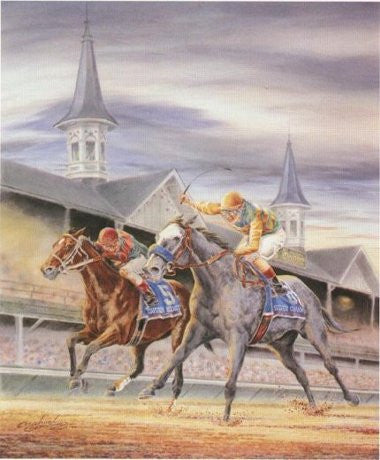 Silver Charm ~ 1997 Kentucky Derby
"SILVER CHARM"
~ 1997 Kentucky Derby  ~
With temperatures under 50 degrees, the 1997 Kentucky Derby was the coldest in 40 years.  When it was over, many thought it was also the most exciting.  
In one of the great stretch battles in history, Silver Charm tenaciously prevailed over the late-charging race favorite, Captain Bodgit.  
Trained by Bob Baffert and ridden by Gary Stevens, Silver Charm later validated himself as one of history's best horses. After capturing the Preakness Stakes, Silver Charm narrowly missed becoming a Triple Crown winner while finishing second by less than a length in the Belmont Stakes. The following year, Silver Charm earned the mantle of "Horse of the World" by winning the $4 million dollar Dubai World Cup in the nation of the United Arab Emirates.
"Silver Charm ~ 1997 Kentucky Derby"
An Artist Signed & Numbered Limited Edition of 925 Fine Art Prints
Image Size 18" x 22"
Price $95.
Order by clicking the ADD TO CART button above
This Print is Sold UnFramed Only
SHIPPING IS FREE
Personal Checks and All Major Credit Cards Accepted
Questions?  call or text Mike Geraghty at 
301. 602. 4385
or Email:  mgArts31@gmail. com