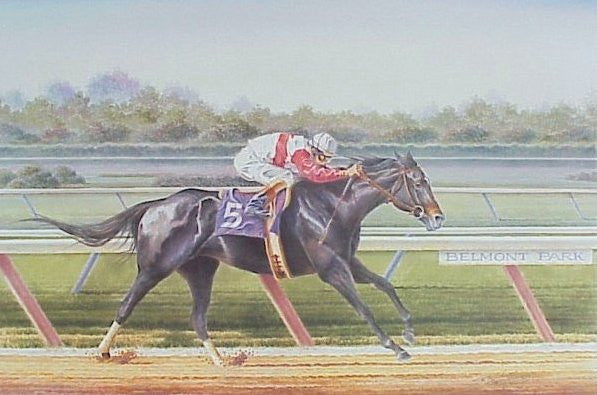 Ruffian
~ RUFFIAN ~
Racing's All-Time Greatest Filly
Winner 1975 Triple Tiara
" God as my witness, I think she's faster than Secretariat."
- Lucien Lauren, Trainer of Secretariat
      Between 1974 and 75 Ruffian competed ten times vs. fillies and dominated each race. Even at age two, she broke longstanding track records. She won two Eclipse Awards as the Outstanding Filly of her generation. Ruffian won the Acorn, Mother Goose and Coaching Club American Oaks stakes races, thus winning the mythical "Filly Triple Crown," known as the Triple Tiara.
      Ruffian set stakes records and won 10 races at the highest level of competition by an astonishing 83 combined lengths. Veteran racegoers considered her the best they had ever seen.
Ruffian ~ Thoroughbred Racing's
All Time Greatest Filly
An Artist Signed & Numbered
Limited Edition of 1,250 Prints
Overall Print Size 20" x 27"
This Print is Sold UnFramed Only
Price $95
SHIPPING IS FREE
Personal Checks & All Major Credit Cards Accepted
Questions?  call or text Mike Geraghty at 
301. 602. 4385
or Email:  mgArts31@gmail. com