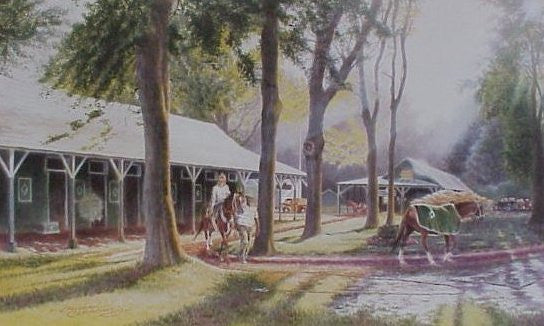 Backstretch Morning Saratoga
" Backstretch Morning - Saratoga "
"It is, of course, the oldest track in America and its ways are old-fashioned ways. After eleven months of new-fashioned ways, it's as restful as old slippers, as quiet as real joy."
- Legendary sports writer, Joe Palmer, writing about Saratoga
Racing since 1863, 
Saratoga Race Course has done it longer than anyone - and I believe better.  The old Model T's notwithstanding, this painting is an actual scene of today's Saratoga backstretch. I merely added the cars to emphasize that this barn area - which has been largely unchanged - goes back for the better part of a century.  
To many who make the trip to Saratoga for the race meet, it's the mornings on the backstretch during training hours which they prefer over the actual day of racing.  It's peaceful and a wonderful opportunity to get up close to some of the best horses in the world. 
"Backstretch Morning ~ Saratoga"
An Artist Signed & Numbered Limited Edition of 1,000 Fine Art Prints
Personal Checks & All Major Credit Cards Accepted
Questions?  call or text Mike Geraghty at 
301. 602. 4385
or Email:  mgArts31@gmail. com