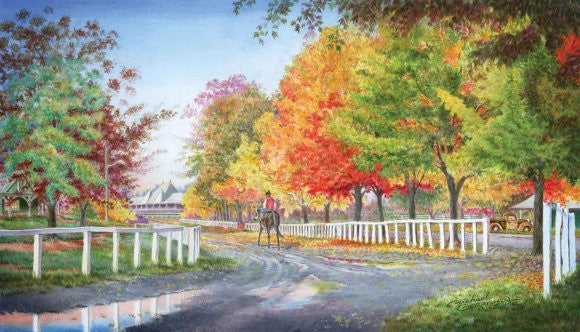 Autumn on the Backstretch ~ Saratoga
A few years ago, in October, I had to return to Saratoga. I was literally taken aback by the scenery of Saratoga Race Course in the Fall.  At every turn, Mother Nature was stunning.  I'd been selling my artwork on-track during the July-August-September race meeting for over 20 years, but had never seen the track during the Fall months.  In an instant, I knew that a view of this gorgeous backstretch would be my next painting.  I spent hours making sketches and taking pictures.
I designed this composition to complement the size of "Backstretch Morning ~ Saratoga" ... my other Saratoga barn area painting.  "Autumn on the Backstretch" is the most colorful painting I've ever done.
"Autumn on the Backstretch"
An Artist Signed & Numbered Limited Edition of 500 Fine Art Prints
Overall Print Size 16" x 24"
Price $85
This Print is Sold UnFramed Only
SHIPPING IS FREE
Personal Checks and All major Credit Cards Accepted
Questions?  call or text Mike Geraghty at 
301. 602. 4385
or Email:  mgArts31@gmail. com