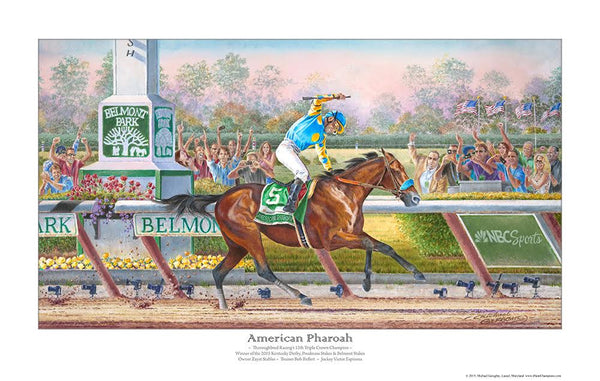 American Pharoah
An Artist Signed & Numbered
Limited Edition Print
After 37 long years, on June 6, 2015, the wait was ended for the long suffering and patient fans of Thoroughbred racing.  
     When American Pharoah flashed under the finish line of the Belmont Stakes, he became the first racehorse since Affirmed in 1978 to win the Triple Crown.  
     By years' end, American Pharoah would strengthen his legend even more by creating a new place for himself in history. He pulled off Thoroughbred racing's "Grand Slam" by crushing the best older horses on earth in the Breeders' Cup Classic.  Never before has a horse won the Kentucky Derby, Preakness Stakes, Belmont Stakes and the Breeders' Cup Classic in the same year..and it's extremely unlikely that such an accomplishment will ever happen again.  
     Of all the moments I could've portrayed of American Pharoah, I chose the Belmont Stakes.  I was there in person, at the rail with my photographer's credential.  After he crossed the wire, the Belmont Park crowd came unglued.  Men of all ages were teared up and complete strangers hugged each other. The deafening applause of almost 100,000 people continued on non-stop for 15-20 minutes.
     Thankfully, even as the owner and trainer of American Pharoah and other such luminaries as the Governor of New York assembled in the winner's circle, jockey Victor Espinoza had the presence of mind to by-pass the circle and slowly walked American Pharoah back up the entire length of the massive grandstand so each of his adoring fans could pay their respects. 
     The finish of the 2015 Belmont Stakes was a moment that no-one who saw it - whether on TV or live at Belmont Park - will ever forget.  The next morning I asked jockey Victor Espinoza how he'd like to be portrayed and he said "Just past the wire - Celebrating!" 

Overall Print Size is 20" x 31"
The caption on each print reads...
AMERICAN PHAROAH
Thoroughbred Racing's 12th Triple Crown Champion
First Ever "Grand Slam" Champion
Winner of the Kentucky Derby, Preakness, Belmont Stakes and
Breeders' Cup World Championship
Owner Zayat tables ~ Jockey Victor Espinoza - Trainer Bob Baffert

An Artist Signed & Numbered Limited Edition Print
SHIPPING IS FREE
Personal checks and all major credit cards accepted.
Questions?  call or text Mike Geraghty at 
301. 602. 4385
or Email:  mgArts31@gmail. com
Copyright 2015, Michael J. Geraghty