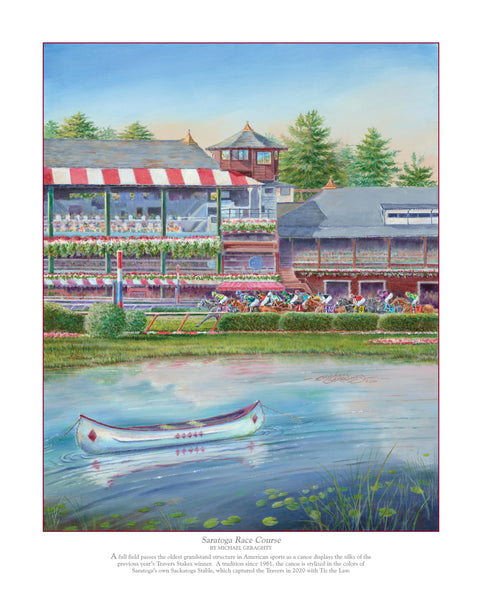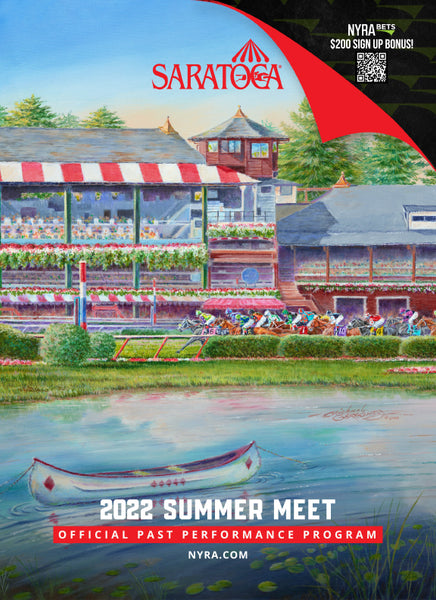 2022 Saratoga Race Meet Cover Painting
Limited Edition Lithograph of the 2022 Saratoga Race Meeting Program Cover Artwork
Image size 18.5" x 23.5"
Overall Print Size, including the white lithographic paper border:
23" x 28"
Due to volume and supply issues, All prints are currently Sold Unframed.
However, they frame beautifully, inexpensively & quickly in a Mahogany wood-colored moulding, which can be found at any local mom & pop picture framer, or Hobby Lobby or Michaels Art & Craft store.
No matting required for attractiveness.
The caption underneath the artwork reads:
A full field passes underneath America's oldest grandstand structure as a canoe displays the silks of the previous year's Travers Stakes winner.
A tradition since 1961, the canoe is stylized in the colors of Saratoga's own Sackatoga Stable, which captured the Travers in 2020 with Tiz the Law.

ARTIST'S PERSONAL NOTE
The silks being worn by the 12 jockeys in this scene are not arbitrary - but their positioning for the composition is. 
While I used the 'colors' of 12 owners or 'ownership groups' with whom I am affiliated or personally fond of, their positioning within the field was based purely on the brightness of the silks & their ability to stand out, or "project better," inside the painting.
What's more; let it be known that the moment portrayed is merely the "first time by" the historic clubhouse & grandstand in a classic two-turn route race. It's anyone's race yet to win!
From left to right, the silks belong to: Bob & Kristine Edwards' e5 Racing Stable; Ed & Ina Stanco's King of Prussia Stable; #6, on the rail, First Row Partners, headed up by Dr Steve Laymon; in the orange: Brad & Misty Grady's silks; the white with green trimming: the silks of Edmund Young; black with white star & green sleeves: Clear Stars Stable (my own ownership group) headed up by Michael Sternklar; the turquoise & orange silks belong to Dr Aaron Cotugno;  far outside, Gold with black star West Point Thoroughbreds; black with white sleeves & light blue trimming: Eclipse Thoroughbred Partners--of whom I co-own a fraction of the very nice Year 2022 Md bred filly, Divine Huntress; the red silks with white sleeves-and-red polka dots: Bloom Racing Stable, headed up by Jeffrey Bloom; Ten Strike Racing's silks, headed up by Marshall Gramm; lastly, Dee Tee Stable's silks, headed up by Thoroughbred racing industry talk show personality, Steve Byk.
In conclusion, as legendary radio commentator Paul Harvey used to sign of...
"And now...You know the rest of the story!
"