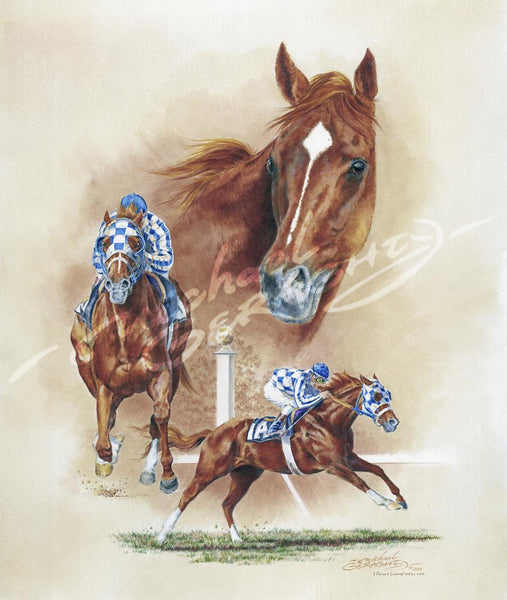 Secretariat ~  America's Horse!
Secretariat ~  America's Horse!
      To this day, Secretariat remains the point of reference to which all other racehorses are measured. His track-record times in the Kentucky Derby and Belmont Stakes may never be challenged.  Moreover, Secretariat's breathtaking, 31-length victory in the 1973 Belmont Stakes stands as a single "symbol of greatness" throughout all of sport. 
      In this composition, I chose a 3-image view to symbolize the Triple Crown series.  Since Secretariat always raced in blinkers, I wanted to show his regal head and distinctive blaze.  Once a striking head portrait was established, I wanted to show a profile of his famous stride--the longest ever recorded.  Lastly, I wanted to show his powerful chest and shoulder muscles..."the engine" of every racehorse...the muscles which propelled this unique animal to breathtaking victories.
>  In commemoration of Secretariat's 1973 Triple Crown Championship, I set the limited edition at 1,973 total prints.
"Secretariat ~ America's Horse!" is an Artist Signed & Numbered Limited Edition Print
Image Size is 19" x 23"
Price $100
SHIPPING IS FREE
Questions?  call or text Mike Geraghty at 
301. 602. 4385
or Email:  mgArts31@gmail. com
---