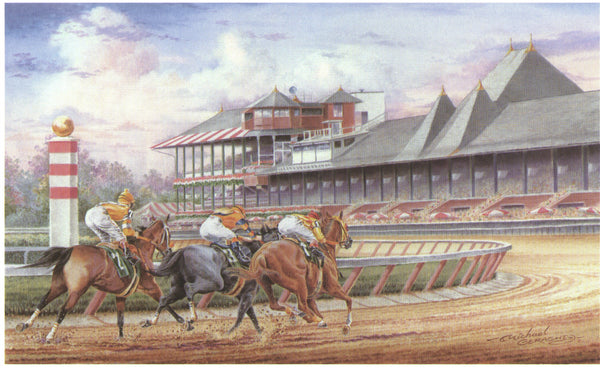 "Racing at Historic Saratoga"
      America has its recognized "cathedrals." Baseball has Fenway Park. The music industry has Carnegie Hall and the thoroughbred racing industry has Saratoga Race Course in upstate New York.
      Racing since 1863, Saratoga is North America's oldest racetrack. Open for just over 30 days each year, it plays host to the most competitive, top-level racing in the world.
      Saratoga is nicknamed "The Graveyard of Favorites," because it is the most difficult place to win.  Over the years, many legends, including Triple Crown winners Gallant Fox, Secretariat and American Pharoah have all finished second there.  For nearly a century now, the term used worldwide to describe victory by an unsuspecting opponent was born at Saratoga Race Course.   In 1919, "Horse of the Century" Man 'O War suffered his only career defeat in Saratoga's Sanford Stakes to a horse named Upset.   From that point forward, according to legend, "upset " was morphed into a verb for American pop culture to describe victory by an underdog in any walk of life.
      In this composition, I wanted to show the historic Saratoga Race Course grandstand from a perspective rarely seen.   Most paintings of the grand old track show it from the Clubhouse turn - a view easily photographed by any fan.   From here, you're permitted to see the entire "open air " grandstand and clubhouse in all its architectural splendor.   Moreover, this angle enabled me to clearly show a female jockey. The long, blond ponytail belongs to Diane Nelson, a veteran New York rider.   Lastly, I couldn't conclude the composition without adding a large cumulus cloud.   No Saratoga meet escapes without a thunderous downpour or two and, as an artist with a daily outdoor exhibit at the track, I always keep a sharp eye on the sky!
      If you've ever attended the races at historic Saratoga, I'm hopeful that this painting will recapture the fond memories of your visit. 
This is an Artist Signed & Numbered
Limited Edition of 2000 Fine Art Prints
Overall print size is 21" x 30"
Price $125
Prints Sold UnFramed 
Free Shipping
All major credit cards accepted
Copyright 2005, Michael J. Geraghty
Questions?  call or text Mike Geraghty at 
301. 602. 4385
or Email:  mgArts31@gmail. com
---