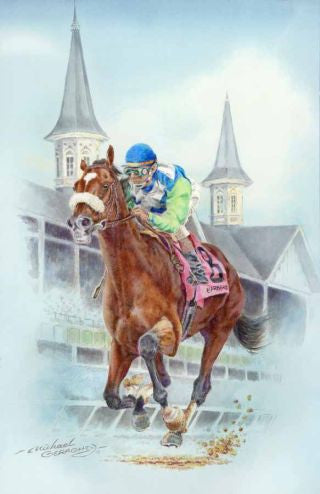 Barbaro
May 6, 2006.  Barbaro runs his record to a perfect six for six by winning the Kentucky Derby. His winning margin was the largest since 1946. 
I put long thought into this composition. How best to honor the great competitor that was Barbaro?  As Hall of Fame California trainer Ron McAnally once said, "Despite the precautions we take everyday for the safety of these wonderful animals; sadly, sometimes they give their lives for our enjoyment."  The design of this painting required the utmost respect.  
I chose to portray Barbaro at the moment of his greatest triumph-the Kentucky Derby- in full flight, with all four feet off the ground, and from an angle which forced viewers to look skyward at him.  I elected to temper the overall background and imagery to provide an ethereal effect. The focus needed to be solely on Barbaro-at his electrifying best.  
I'll never forget legendary track announcer Tom Durkin calling the '06 Derby.  As Barbaro and jockey Edgar Prado kicked away in the stretch, Durkin shouted  "...And Barbaro turns it on!  ...It's all Barbaro- in a sublime performance...He runs away from them!"  I had to look up the word "sublime."  Webster says, "lofty; grand; a thing of beauty...artistic."   How fitting.
BARBARO
An Artist Signed & Numbered Limited Edition of 500 Fine Art Prints
Image Size 11" x 19" ~ Overall 15 x 24
Price $75
Barbaro prints are Sold UnFramed
SHIPPING IS FREE
Personal Checks and All Major Credit Cards Accepted
Questions?  call or text Mike Geraghty at 
301. 602. 4385
or Email:  mgArts31@gmail. com
---